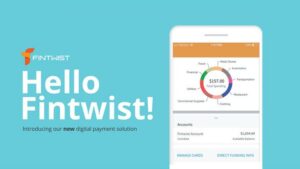 HELLO COMDATA AND FINTWIST 👋
SOLE Financial was acquired by Comdata, a FLEETCOR company, a leading global business payments company. Now you can take advantage of Fintwist, Comdata's, digital payment platform. Fintwist enables cardholders to access and manage their pay with tools like integrated bill pay, P2P transfers, money management, and balance and transaction history all through the convenience of their phone.
WHAT IF I'M A SOLE CARDHOLDER?
If you're a SOLE cardholder, please continue to use your SOLE visa card until you receive your new Fintwist card from your employer. Please activate your new Fintwist card as soon as you receive it to begin enjoying the benefits like:
iOS & Android mobile app where you can track purchases, send money, manage spending, and pay bills

Free in-network ATMs

Free text alerts*

Free transfers to bank accounts

Free access to cash at Mastercard banks

Loyalty and rewards programs

24/7/365 phone support

Fraud and identity theft protection

Access to online shopping and payments

Single sign-on for the Fintwist website and Fintwist app
WHAT IF I'M A SOLE CLIENT?
If you're a SOLE client, your Client Service Manager will reach out to you to notify you when your program and employees will be changed over to the Fintwist platform. Implementing the new card program will save your employees money and provide your organization with great benefits like:
Zero cost to migrate

Mitigates the risk of delayed or lost checks

Training and onboarding materials

On-demand pay**

Online instant and personalized card orders

Prefunding account for termination pay and same day payments

No new contract required

Grove of trees planted in your company's name should you achieve a 100% paperless payroll 
WHAT IF I'M A SOLE PARTNER?
If you're a SOLE partner, you'll be contacted by our Partner Channel team or Business Development team. They will provide you information on product education, integration, and marketing materials. Additionally, by partnering with Comdata and Fintwist, you'll have access to:
More robust product suite to reach a larger number of your clients

Ability to provide API integration with the help of tech support

Accessibility – every employee can receive a payroll card – even if the person does not pass CIP

Offering your customers a "courtesy line of credit" to help ensure small, one-off payments reach cardholders every time, such as termination and same day pay (subject to credit approval)

Grove of trees planted for every client who eliminates paper checks
I'D LIKE MORE INFORMATION ON FINTWIST!
Have you been looking for an innovative alternative to issuing paper checks? Look no further! Fintwist digital payments solutions is an efficient and secure solution that's easy to implement and use. Click here for more information on how Fintwist can help your company.
 *charges from your provider may apply
**on request from employer and by Comdata approval