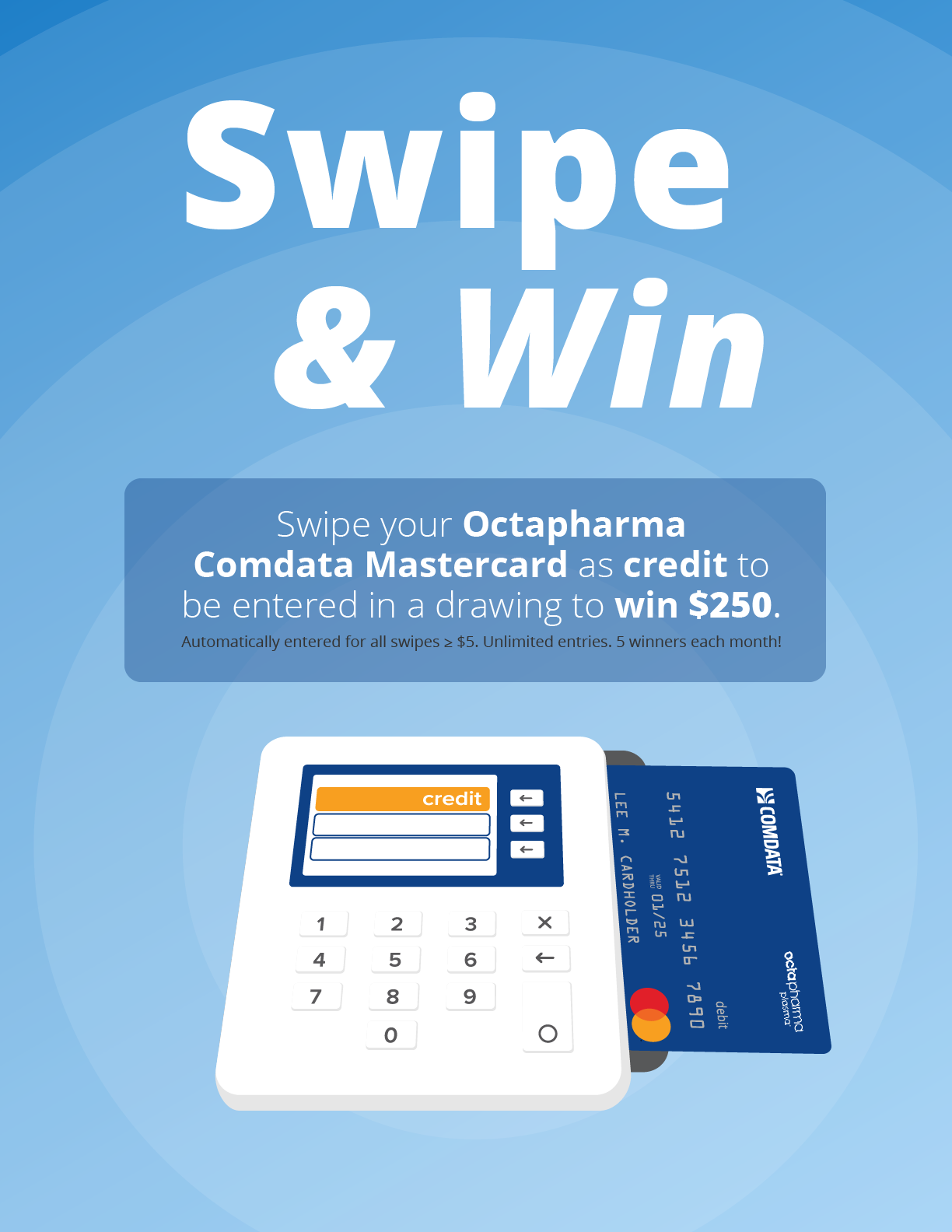 How to Enter to Win: To enter to win, just swipe your card as Credit when buying something that costs at least five dollars ($5.00). Every Credit swipe of five dollars or more is an automatic entry, with unlimited entries. The contest starts over each month while the promotion runs. You can also make a purchase online to be entered to win.
How to make a credit purchase:
When you're making a purchase, and the merchant or card machine asks you to choose between Credit and Debit, select Credit and complete your purchase by signing your name.

If the card machine defaults to Debit and requests your PIN, rather than asking you to choose between Debit and Credit, press Cancel to run the purchase as credit. If that doesn't work, try again, but instead press Enter to bypass the PIN option and run the card as credit.

Any time you enter your PIN, it will not count as a Credit purchase. Select Cancel anytime you're prompted for a PIN to ensure you're choosing credit.
How We'll Select the Winners:
We'll randomly select five (5) people who swiped their card as Credit for transactions of $5.00 or more in any given month to win $250.00 each. The more Credit swipes you have will increase your chances to win because you will receive an entry into the contest pool for each credit transaction of $5.00 or more.
How You'll Know if You Won:
We'll contact each winner directly via phone and email. Please be sure we have your correct email address and phone number on file. With your permission, we may also announce the winners (first name only for privacy) on social media. Good luck! Still have questions? Contact us at (888) 265-8228
Terms and Eligibility Requirements
Each individual must use their Octapharma Comdata Donor Card (that we, Comdata, Inc., issue) for a credit purchase of at least $5.00 between the 1st and the last day of the month to qualify. Each participant will be counted upon making their first credit purchase of the month; any additional credit purchases will count as additional entries. Multiple credit purchases on the same day will count as distinct and separate qualifying purchases. Making a point-of-sale credit purchase or buying something online using your Octapharma Comdata Donor Card are considered eligible "credit purchases" of the card.

No purchase is necessary to be eligible to win. There is a free alternate method of entry. Specifically, each time you mail a written request to enter, to [Contact Address in Marketing responsible for implementing the contest], you will be entered to win as though you had swiped your card. Each mail-in-entry made without a purchase has the same odds of winning as a purchase-made entry.

We will randomly select five winners from those who have qualified during the previous month. We will submit an ACH transfer of $250 to the winner's Octapharma Comdata Donor Card after verifying the winner's identity over the phone. We will notify the winner by email and phone. If we are unable to make contact with the winner after one week after several reasonable attempts to make contact through phone and email, the original winner forfeits all winnings, and we will select a new winner. We will continue to select new winners until contact is made with a winner.

Eligibility requirements: must be a Octapharma Comdata Donor Card cardholder in possession of an active Octapharma Comdata Donor Card; must be a legal resident of the United States to win. Also, only those aged 18 or older are eligible to win. This promotion excludes residents of Florida, New York State, Rhode Island, and Arizona.

The odds of winning depend on the number of eligible entries received. There are exactly five prizes of USD $250 per calendar month of 2021 regardless of the number of entries. All entries must be received on or before 10 business days after the month in question. The last drawing will take place on January 15, 2022, and then the contest will close.

Right to cancel or modify. We reserve the right to cancel, suspend or modify this promotion if any problem prevents the promotion from running as planned.

Release. Entrants agree to release and hold us harmless from and against any claim associated with the promotion.

Limitation of liability. We are not responsible and cannot be held liable for technical errors or other things that may prevent the promotion from running as planned.

Right to substitute. We reserve the right to substitute any prize with another prize of equal or greater value if the advertised prize is not available.

We will issue each winner an IRS Form 1099-MISC.

Where required by applicable law, we will provide you a list of winners if you request this by emailing fintwist@comdata.com at least 15 business days (but no more than 90 calendar days) after the month end.

Forum selection. The official rules are governed by the laws of the state of Tennessee. Nashville, TN courts shall have exclusive jurisdiction over any litigation related to this promotion.

Octapharma Comdata Donor Card cardholders may also enter by mail without making a credit purchase. Please send a letter stating your intent to be considered for the sweepstakes to us, addressed to:
Octapharma Comdata; ATTN: SWIPE & WIN; 5301 Maryland Way, Brentwood TN 37027